2019 DATES:
Opening Night:  Thursday, May 30th
Juniors will be playing in Mattydale. We will not be rotating into Carrier Park this year. Please check the schedule for details.
Seniors will be playing in Mattydale on Field 10 near the intersection of Westwood Ave. and Malden Rd.
Adults will be playing at Carrier Park.
FINAL GAME: Thursday, July 25th (No games on July 2nd or 4th)

Little League Appreciation Night with the Syracuse Chiefs: 
Saturday, June 15th
Parade Meetup at Chiefs Office at 5:30 pm 
Parents and players will sit in the same designated Challenger section. You must sign up here for free tickets for players and coaches that are attending by June 5th.
Parents – MUST purchase tickets to enter the stadium.  You can buy them online here.

Only guaranteed to sit in the same section if they purchase tickets before June 5th with the promo code Challenger.
Available tickets within the same section might have to be capped depending on availability (tickets within the stadium will still be available for purchase).
You DO NOT need to purchase tickets for the player. Players are free.
Parents, caregivers or mentors will be sitting in the same SECTION and not necessarily have a ticket located directly next to the player they arrived with but we are lenient on movement within our section.
Players – Please come dressed in their uniform and meet us at the business office entrance to the stadium. We will again walk onto the field through the third base gate.
Monday, July 29th
The Challenger Banquet: Monday, July 29th 5:00 PM – 8:00 PM  
Our end of the year banquet is from 5:00 to 8:00 PM at The Spinning Wheel, 7384 Thompson Rd, North Syracuse, NY 13212.   Please let us know if you are attending here.
Players will be awarded trophies and we will have hamburgers, hot dogs, coneys, baked ziti, chicken tenders, baked beans, salt potatoes, salad, watermelon and soda, lemonade and iced tea etc.. The Spinning Wheel has great indoor and outdoor space terrific picnic tables and softball fields next door.
There is no cost for families but we ask that you keep the headcount to three people. Dress is casual. If you cannot attend, please call your coach to make arrangements to get your player's trophy.
Parents, mentors, caregivers, and players can come at any time but these teams will gather in the banquet room for trophy giveaways at these times:
5:00 pm CC Green, Orange, Light Blue and Dark Blue
5:45 pm  Red, Gray, Yellow &  Purple
6:30 pm Engines, Express, Diesels, Steamers,
7:00 pm Team Kathi and Mellow Yellows, Locos, Subways,
7:30 pm Mets and Yankees
---
The Spinning Wheel Restaurant
 
7384 Thompson Road,
North Syracuse, New York
13212
Challenger at the Syracuse Chiefs: Saturday 8/3 11am to 6pm
Fill out the online form to let us know if you will be attending!
11:00 am Green vs Red
11:45 am Orange vs Yellow
12:15 pm Gray vs Dark Blue
12:45 pm Purple vs Light Blue
1:15 pm Team Kathi vs. Diesels
2:30 pm Engines vs. Subways
3:15 pm Mellow Yellows vs. Express
4:00 pm Locos Vs. Steamers
4:45pm – Mets vs. Yankees
NBT Bank Stadium
1 Tex Simone Dr
Syracuse, New York
13208-1228
LIFETOUCH PHOTOS
We will be taking all team photos at the NBT Stadium Day on August 3rd.
If you are just interested in the free "Sports Mate" fill out the paperwork at the Stadium Day.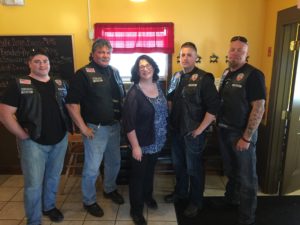 THE ENFORCERS MOTORCYCLE CLUB AT MATTYDALE FIELDS
We are so thrilled to have the Enforcers helping out at our Mattydale fields. The club is filled with present and former military and police who like to do community work to raise awareness and do community service for the groups that need their help.  It helps our community to have every vigilant and trained officers to help us in times of need. Please welcome them to our fields this year.